Vector Radio on XLTRAX Dance Station
Vector Radio on XLTRAX Dance Station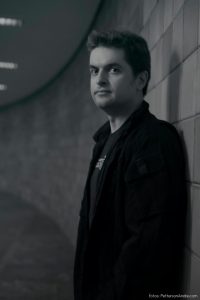 Vector Commander Aka Alex Strunz ::::::::::::::::::::::::::::::: :
[Extreme Forces Records / We Call It Hard Records (Berlin) / Corrupt Systems]
Alex Strunz is Producer, DJ and creator Live PA Perfomance of the projects of production Vector Commander and Machine Revenge!
He has always lived in the two musical worlds of Techno and its aspects and also of EBM (Electronic Body Music) & Industrial, making an unusual fusion of these styles creating a unique identity of its sound. Always representing the banner of underground music as a reference, as a style of music and life.
Using the Codename Vector Commander since 2002, it is one of the few lives (LIVE PA) in Brazil made with analogical machines, fxs and their voices in vocoders where interference is the key, always modernizing with their own music has plans to join new technologies with controllers where the intention is never to limit.
His mission does not end there, either as a Techno DJ or as an EBM / Industrial DJ, he continues to promote the music of other producers, after all good music is to be spread.
As an incentive in addition to an artist, he directs Vector Radio, which is 11 years in the air in foreign lands (Techno Fm Canada, at Future Music Uk – London)
Manager and creator of Extreme Forces Records, a label focused on "Track Techno" refers to the dark and sombre underground songs, bringing different and impacting sonorities.
Alex Signs a line of long sets called "Industrial Empire", where they are long djs sets where the music EBM, Industrial and Hybrids meet in a true trip of 2 hours of the most different groups and projects!
With each set Alex uses his design talent to create special covers, where music allied to the image form an identity of a musical product made by an artist!the arts are made by Alex, where music allied to the image on special covers form a unique identity of a musical product made by an artist!
LINKS:
VECTOR COMMANDER
INDUSTRIAL EMPIRE CORPORATION (EBM INDUSTRIAL SPECIAL SETS)
EXTREME FORCES LABEL (TECHNO LABEL)
MACHINE REVENGE ( parallel project solo EBM Industrial)