How to become an internet radio DJ?
How to become an internet radio DJ?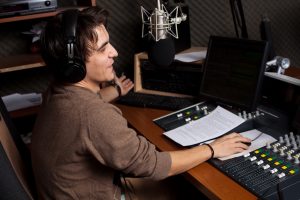 An internet Radio DJ plays as well as mixes music and also discusses news, music and also some other topics of interest on breaks between songs via online signal. The internet radio DJ is responsible for actually playing as well as mixing music for online listeners. Someone who loves to talk, entertain, joke with people and truly loves the music will make a good online Radio DJ making people's days better. If you can be a positive, inspiring force for your audience you will be a successful radio internet DJ.
So how can a striving DJ get radio experience?  This can be done by taking an internship, volunteering or maybe start working part-time at virtually any radio station you can.  Even if you are not able to get on air, just having some type of role in the radio station can be a great start, whether it be in marketing, journalist or on the street team.
The radio station does not even have to be the format you desire to work in because you can not be too picky right off the start. You have to be fairly good with computers and have a certain degree of web knowledge. Consider taking a voice class.
Internet radio can be hard to break into, but the main thing is to get your foot in the door no matter how, you just need to prove yourself . In case you can't get into the leading stations in your neighborhood and you've tried everything, try all the smaller surrounding markets where you can get hands on experience and develop your resume. Many DJs and On Air Personalities are members of the National Association of Broadcasters, hence go out and sign up with the organisations that are filled with those kind of people.  Search for someone to take you under his wing and mentor you. Hang around people with similar interests. Learn what makes them successful and also shadow them on the job. Steadily, work your way up knowing that you won't get that dream career immediately, but that your chance will come.
It's a waiting game bear in mind, when people desire the best they strive for the best! Be part of a winning team, a great family of pals and part of the people that really have a love for music. Below are a few things you'll want to make sure you have before you think of becoming an internet radio DJ.
1) A computer
2) Broadcasting software
Try SAM Broadcaster for FREE to start your very own internet radio station
3) A enormous MP3 collection
4) An idea of what kind of show you want to do
5) Must be serious and want to really be part of a team
Contact our partners at http://radiosolution.info  to get your started.  XLTRAX would happily accept you as a radio DJ so do not be shy and send your application to us right away!  Submit your application to XLTRAX.