How to get Xltrax in the Car
How to get Xltrax in the Car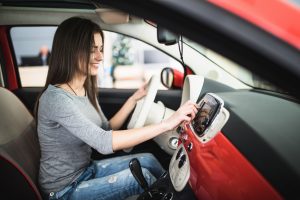 We want Wi-Fi in our cars! Where is it and why is it taking so long for automobile manufacturers to make Wi-fi  a standard feature?! Ok so you may not be considering a brand new Audi or Infiniti with built in Wi-Fi, but you want to know how to get Xltrax in the car. Thankfully there is a solution to get the best internet radio network of stations playing in the car and it is easier than you think!
All you need is a smartphone with internet capability, Bluetooth or an output that would transmit the audio of the phone to the car stereo system. You can use either a wired or wireless connection. Lets break down the connections in a more detailed explanation.
Wired connection
If your car stereo has a 3.5 mm auxiliary jack, then all you need to do is go to your local electronics store or purchase on Amazon a 3.5 mm male to male cable. Just plug one end to your smart phone and the other to the 3.5 mm in the car stereo system.
Wireless connection
Your car stereo may be equipped with Bluetooth technology. Look for the Bluetooth logo on the front panel of the stereo or refer to your car's manual or documentation. If the car stereo has Bluetooth then you will need to pair with your smartphone. Make sure your smartphone's Bluetooth is activated. Once you are paired up, you can send the audio signal from your smartphone to the car stereo.
Another wireless option available to those without Bluetooth capability on their car stereo, is a wireless MP3 transmitter.  This product is also available on Amazon here. This FM transmitter provides multi-solutions for your hands-free driving and in-car stereo streaming. Smartphones connect to this FM transmitter through Bluetooth, and then streamed through the car stereo FM system or AUX port via an available FM channel. It will pair automatically after you power on.
Once you have a connection from your smartphone to your car stereo system it is time to connect to XLTRAX. You can simply visit the website at https://xltrax.com/xltrax-radio-stations/  Here you will find a network of internet stations with a compatible player for Android and iOS devices. There is the mainstation that plays dance music. Xlmax plays the top40 pop songs and XLcountry plays country hits. As a bonus we offer two other XLTRAX stations from Estonia.
Another possibility for Android users is to download our XLTRAX app on Google Play. We would really appreciate the 5 star rating!
Remember you will need to make sure you have a good data plan before you stream music from your smartphone. Please do not forget to drive safe and consider all of your local driving and safety laws.