What to do for New Year's Eve- A Guide for Traditional and Online Celebrations
What to do for new year's eve- A guide for traditional and Online Celebrations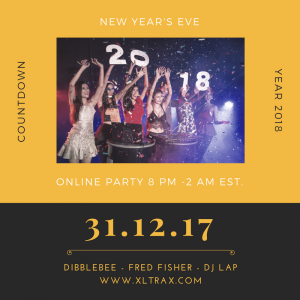 The New Year is about to start, aren't you excited? It is usually welcomed wholeheartedly by celebrating the eve with full pomp and glamour. What are your plans for the big night?
Haven't made any? Well, you should. You have no idea how much fun you are going to miss. There are different ways by which you can celebrate NYE 2018 and make it more special and memorable.
If you are thinking about what to do for New Year's Eve, we have got you covered.
Edinburgh

You might have heard about it as it is the most popular and one of the biggest and lively celebrations of the New Year around the world. Join them for a refreshing dose of entertainment. Hanging out there in the street party and being the part of Torchlight procession will provide you some unforgettable memories. Additionally, amazing music concerts are also held there and you can attend these to make your New Year night more fun-filled.
Liverpool

The New Year's Events at the Liverpool are truly amusing and offers everything that you may want to enjoy to your fullest. Whether you are a foodie or a music lover, you will be entertained here in the best way possible. Enjoy a gala dinner with your family and spend some time out there in the bars and clubs with your friends and make the night more exciting.
Nottingham

If you want to attend a live musical show or want to spend some time laughing out hard, Nottingham city's celebrations are best for you. The Glee club organizes a wonderful comedy show there where some of the top artists perform and make you laugh hilariously.

Moreover, the celebrations at the castle of Nottingham include tremendous fireworks in addition to numerous tempting food stalls and music shows.
Wales

Want to have a family night out? Well, if you are more of a family guy and want to enjoy the eve with your whole family including the children, Cardiff is the best place for you.

The marvelous display of fireworks at the mid-night and different family-friendly events are there that you can join and spend some joyous and quality time with your loved ones.
Attending any of these events would make your eve memorable for sure. But what if you are not in the UK at the time of New Year? What if you are a kind of person who doesn't like the crowd? Well, not all the celebrations are enjoyed by physically attending the events. You can also be the part of online events and have some fun.
Yes, that's right. It is not at all necessary to go out for having fun. Even if you cannot go out to the parties, you can still enjoy.
What to do on NYE online?

The online celebration includes various different means. You can make use of social media and send lovely wishes to your friends all over the world. Set up your webcam and send lives wishes and your love to the far-off friends.
You can also be the part of New Year's Eve online party.
An exciting and delightful event is going to held online for all you guys. Don't forget to join this huge party.
An excellent New Year Celebration is going to be held at djlivestudio.com on the 31st of December from 8 pm to 2 am eastern standard time. Save the dates and don't miss out the opportunity to be the part of this online event to make your new year's eve more lovable.