DJ Meetch Dibblebee Show
DJ Meetch Dibblebee Show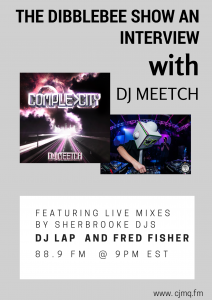 DJ Meetch Dibblebee Show entertainer extraordinaire was invited  to thee DJ Dibblebee Top 10 Dance Show!
He's handsome, he's smart and his life story is truly one of perseverance, DJ Meetch on Dibblebee Show has climbed the ladder of success in the entertainment industry the last couple of months and has proved he is truly a musical force to be reckoned with.
The 20 year old DJ released his first album, Complexcity in April 2015. Meetch, a space enthusiast gave each of the songs on the album a space theme. Two versions of the album are available: One to bump in the car, and another free download with the extended versions.
Meetch is without a doubt the hottest, most exciting export from the US since Facebook, Nike and Starbucks and we are sure to hear his name a lot in the future.
DJ Dibblebee had the pleasure of interviewing this entertainer extraordinaire on the DJ Dibblebee Top 10 Dance Show. Listen to the interview now!
Visit his website at www.djmeetch.com and check out his free album download.