MIKE VINCENT HOT WINGS
MIKE VINCENT HOT WINGS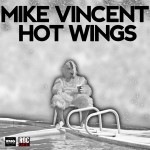 Summer time is all about the festivals, beach, pool parties and Mike Vincent Hot Wings. Of course you can not forget about the great summer time hot music. That is why we are always on the look out for another summer song to share with you. DJ/Producer Mike Vincent Hot Wings from Los Angeles delivers, because he brings us a catchy new summer hit anthem all about 'hot wings'. The banger was released July 14th, 2015 and is called 'Hot Wings' Enjoy below on Youtube the just a little bit steamy and tad bit weird NSFW youtube video full of smashing party honies.
Follow Mike Vincent on social media:
http://soundcloud.com/mikevincent
http://facebook.com/mikevincentmusic
http://twitter.com/mvincentmusic

(Before listening to the video make sure you close the radio that is on autoplay)
Main playlist with id 0 does not exist!Preset with id 0 does not exist!